Camper 760LMT-D Caravan and Motorhome sat nav
Easy-to-read 7" display
Customised Camper routing for Europe
Free Garmin DIGITAL Traffic via DAB - Garmin's best traffic solution - out of the box!
Camper specific directories (ACSI and MHF) with search filter.
Camper trip planning and sharing
Lifetime map and traffic updates
Wireless backup camera compatible

Civilisation on Demand
Enjoy the freedom of the open road with the comfort and convenience of travelling with a friendly guide. Camper 760LMT-D is designed for navigating in or with motorhomes, caravans and campers with all the joys as well as the extra effort that can involve. You want to get to your destination as easily as possible, so Camper 760LMT-D is here to help.
Free Lifetime Maps
You'll always have the most up to date maps, points of interest such as campgrounds and navigation information on board. The very latest maps are available to download up to four times a year, completely free of charge.
The Best of Our Traffic Solutions
Camper 760LMT-D comes with Garmin's Digital Traffic.
It's FAST, ACCURATE, and FREE. It provides continuous and accurate updates on the super-fast digital network. It is twice as fast as other sat navs: if there are queues ahead you'll know about them. It will accurately pinpoint any incidents and delay times then give clear and simple directions for alternative routes. There are no ongoing subscriptions as it is a Lifetime service – simply use out of the box – for free.
Customised Routing for Your Vehicle
Camper 760LMT-D is preloaded with detailed maps of Europe that also include related restrictions, such as bridge heights and related information for most major roads and motorways. Just enter your vehicle profile information (customisable by height, weight, length and width) and find suitable routes. Additionally receive warnings for risk of grounding, lateral wind, narrow road, sharp curve, steep hill and tree overhang
Driving Guidance You See and Hear
Active Lane Guidance with voice prompts prepares you before you get to a junction so you can be confident of changing lanes in time. As you approach, an animated model uses brightly coloured arrows to indicate the proper lane needed for your route; a friendly voice offers additional help. photoReal junction view realistically displays junctions including the surrounding landscape and road signs along your route.
Camper Trip Planning and Sharing
Plan your next Camping trip with BaseCamp. You can create routes along specific roads and search for points of interest, including local attractions, restaurants and fuel stops. Then, upload your pre-planned trip to your Camper 760LMT-D and follow along for a stress-free ride.
Garmin Adventures, powered by BaseCamp, is a free, interactive way to record and share your trips. With Garmin Adventures, you can combine routes, waypoints, geotagged photos, YouTube® videos and more into an adventure that you share online. Garmin Adventures also allows you to rate your trips, read reviews and download routes shared by fellow Campers.
The Power of Your Voice
Camper 760LMT-D offers the convenience of voice-activated navigation. Speak and your device responds to your commands. Your hands can remain on the wheel. Of course, you can also navigate using the touchscreen interface.
Up Ahead Services Information
No matter where you are, always know what's close. Up Ahead is a constant stream of nearby places – including restaurants, stores, hospitals and petrol stations – that appears alongside your driving map and updates as you move along your route.
Garmin Real Directions™ with Garmin Real Voice™
Camper 760LMT-D comes with Garmin's unique Real Directions that guide like a friend, using recognisable landmarks, buildings and traffic lights. For example you may be advised to "turn left over tower bridge" or to "turn right after the cathedral". Using prominent milestones even on unfamiliar roads means you're not constantly trying to read street names, making your journey much easier and ensures you're never misled. Along with this you also get a more natural sounding voice and realistic images of road signs.
Bluetooth® Compatible
Sync a compatible Bluetooth-enabled device, such as your smartphone, to Camper 760LMT-D for hands-free calling through its integrated microphone and speaker. Safely stow your phone in a glove compartment, pocket or purse and still make and take calls.
Smartphone Link Compatible
While on the road, you can use your Camper 760LMT-D to view detailed forecasts, current conditions and animated radar images plus receive severe weather alerts. Weather alerts via SPL are not available in Europe
It's possible with Smartphone Link, a free mobile app that connects Camper 760LMT-D with your iPhone® or Android™ smartphone. Once paired, your Camper 760LMT-D can use your phone's existing data plan to share information and to access Garmin Live Services, useful real-time information, including weather. Garmin Live Services are free and available by subscription.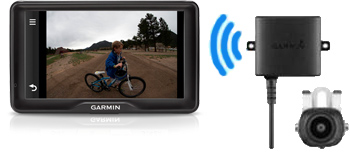 Wireless Backup Camera Compatible
Ease the stress of moving in reverse by connecting your Camper 760LMT-D to BC 20 Wireless Backup Camera (sold separately). Once connected, Camper 760LMT-D conveniently displays the camera footage right on its big screen.
One-stop Device Management
Use Garmin Express to keep your Camper 760LMT-D up-to-date. Garmin Express makes it easy to update maps and software, transfer favorites to and from devices, and install free custom vehicles and voices.
General

Physical dimensions
18.7 x 11.4 x 2.3 cm
Display size
15.4 x 8.6 cm; diagonal 17.8 cm
Display resolution
800 x 480 pixels
Display type
Colour TFT with white backlight
Weight
12.4 ounces (352 g)
Battery
Rechargeable lithium-ion
Battery life
Up to 1.5 hours
Maps & memory

Preloaded street maps
Includes map updates
Navigation features

Voice-activated navigation (operate device with spoken commands)
Full Europe version only
Traffic updates
Lane assist with junction view (displays junction signs)
Bluetooth® calling
Speed limit indicator (displays speed limit for most major roads in the U.S. and Europe)
Semi Truck Features

Headphone jack/audio line-out
Additional

Additional

Specialised Camper routing supports Camper-related restrictions in Europe (customisable by height, weight, length, width)
Includes a directory to ACSI and MHF, including campground search for sites with your preferred amenities and specialised Camper parking
Displays elevation of current roads while driving
Includes Camper specific features such as, speed limit changes, sunrise/sunset and mile marker info
External video input for backup cameras
Receive live services via your compatible iPhone® or Android™ smartphone with Smartphone Link.
Camper 760 LMT-D
Vehicle suction cup and active mount
Power supply cable with integrated lifetime traffic receiver
USB cable
Quick start manual
Why NOH?
A newly overhauled (NOH) device has been refurbished to like-new condition by Garmin factory engineers. NOH devices go through extensive testing and are guaranteed to maintain the same high-quality standards as all Garmin products. NOH products come packaged in white boxes and contain all accessories, manuals and a 2-Year Manufacturer Warranty.
Why choose Garmin NOH products?
Factory Direct
NOH products come straight from the Garmin factory
Like New
NOH products are guaranteed to look and work like new
Warranty
NOH products come with a 2-Year Manufacturer Warranty
Go Green
NOH products come in environmentally-friendly packaging to reduce waste
Save Money
NOH products are offered at significant cost savings
Satisfaction Guarantee
If you're not happy with your NOH purchase, we'll take it back for a full refund
Recently viewed product
You recently viewed these products