Uncompromising GPS Sport Watch
Stainless Steel EXO™ antenna with GPS + GLONASS support for fast fix and accuracy
3.1 cm (1.2-inch) sunlight readable colour Chroma™ display
Altimeter, barometer and 3-axis compass with auto calibration
Support of a broad selection of sports and activities with dedicated user profiles like trail running, swimming, hiking, skiing and more
Advanced fitness training features including VO2 Max and Recovery Advisor and classic Garmin navigation features like TracBack
Smart features like Smart Notification and Connect IQ™ App support for further customisation
Battery life: up to 20 hours in GPS training mode; up to 6 weeks in watch mode 
fēnix 3 is the uncompromising GPS sport watch designed for demanding athletes and outdoor adventurers. It is powered by GPS and GLONASS via the new steel EXO antenna and a brilliant colour display. fēnix 3 comes packed with multi-sport training, trail running and navigation. It introduces a tough athletic design with quality materials and smart features like Connect IQ Apps.
A True All-Rounder
fēnix 3 is designed to assist people during their sport activities and outdoor life. It supports performance sports like running, cycling, swimming, trail running, indoor training, cross country skiing as well as triathlon and recreational activities such as hiking, climbing and downhill skiing. It measures performance on the go, tracks activities for sharing and navigates the user back home at the end of an adventure. And it does not stop there. The new Connect IQ App support for fēnix 3 opens up the potential to develop many more functions and for all sorts of activities in the near future.
Once running gets serious
fēnix 3 is packed with cutting edge training features from Garmin. When used with a heart rate monitor (included in the Performer Bundle) it can give you stats about your form and fitness. The first is VO2 Max which gives you an estimation of your actual fitness based on your performance and heart rate data. The fēnix 3 is even able to make a prediction on your race time based on your VO2 Max value. After your training the recovery advisor tells you how much time you need to recover from your last activity. fēnix 3 incorporates sophisticated sensor feedback on your running form to provide multiple advanced running metrics. When used with the HRM-run monitor (included in the performer bundle), fēnix 3 reports your cadence, vertical oscillation and ground contact time otherwise knows as Running Dynamics. These metrics show your running efficiency – something you can use to improve your performance over time.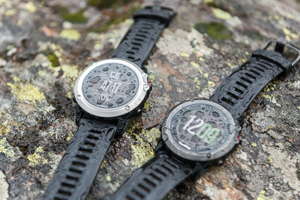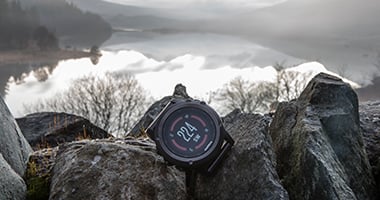 Run Vertical
To address the specific needs of trail runners, fēnix 3 provides a dedicated trail profile. New features include the automatic switch for core data presentation during flat running vs. climbing sequences and more climbing-relevant data such as ascent performance split for laps and vertical speed. For Ultra Trail runners fēnix 3 secures additional battery life in UltraTrac* mode and the option to run the watch with external power supply for the big challenge.
Dive In
Whether you're training at the pool or out in the open water, fēnix 3 captures detailed swim metrics, including distance, pace, stroke count, stroke rate and SWOLF score. The drill logging feature allows you to easily log swim drills and kick sets at the pool, and the 2 types of rest timers keep you pushing off the wall on time. Use time alerts to help you hold your pace, or distance alerts to let you know when a set is over. There are even alerts for calories and stroke rate.
Ride On
fēnix 3 is compatible with sensors such as speed, cadence and heart rate to provide advanced training capabilities for your cycling workouts. It can also display power metrics when paired with ANT+ power meters, including the Vector line of single and dual-sensing pedal options. If you train with a heart rate monitor and power meter, fēnix 3 can derive your VO2 max estimate for cycling to help monitor changes in your fitness.

Take this run
Ski-board mode puts speed, distance, vertical drop and an automatic run counter (with Auto Pause for the lift line) and more at your fingertips. You can even use your fēnix 3 as a glove-friendly remote, via ANT+®, for the VIRB® and VIRB Elite action cameras.
You know your way
fēnix 3 provides comprehensive navigation and tracking functionalities to guide you on and off the beaten track. fēnix 3 records a GPS track log creating a "bread crumb trail" as you move. It also allows you to mark locations, such as a start/finish line, course checkpoint, or a campsite, vehicle or other point of interest. With fēnix 3, you can create and follow courses or mark up to 1,000 locations and navigate to them. Plan trips and share adventures with friends and family using Garmin's free planning tool BaseCamp™ on your computer.
More than just ABC sensors
fēnix 3 is equipped with a barometric altimeter and an electronic 3-axis compass. The device auto-calibrates theses sensors using its GPS receiver to provide the most accurate information possible. The built-in altimeter provides elevation data to accurately monitor ascent and descent, while the barometer can be used to predict weather changes by showing short-term trends in air pressure. The 3-axis electronic compass keeps your bearing whether you're moving or not. For accurate temperature reading from the watch, pair the fēnix 3 with our external tempe temperature sensor.
Great Style That Stands Up to the Roughest Conditions
fēnix 3 is available in 2 bold models: grey with a scratch-protected domed crystal and black band; silver with scratch protected domed crystal and red band. Each watch features an ultra-strong glass-fibre housing and stainless steel buttons for extra durability. A sunlight-readable high-resolution colour Chroma display with LED backlight lets you access your data in any light condition. fēnix 3 is water rated to 100 metres and has a battery life of up to 50 hours in UltraTrac mode, 16 hours in GPS mode and up to 3 months in watch mode (all depending on settings).
Connect IQ™
 

Apps

fēnix 3 uses the Connect IQ platform for further customisation so you can personalise your watch with ConnectIQ apps, widgets, data fields and unique watch faces that make your Garmin smartwatch even smarter.
Stay Connected
fēnix 3 is really smart and keeps you in touch with the world – be it through your smart phone to receive Smart Notifications directly on the watch, or through your WiFi hotspot for seamless automatic activity upload to Garmin Connect™. If you want to, fēnix 3 even keeps family and friends informed about your whereabouts through LiveTrack. Get even more information from fēnix 3 by combining it with one of the many optional Garmin ANT+ sensors like Vector® for cycling power, tempe™ for temperature, HRM-run for running dynamics and heart rate and many more.
Wear Your Personality on Your Sleeve
Download the free Garmin Face It™ watch face app to customise your device with any photo from your smartphone. Just download the app, choose an image from your photo library, adjust the style for time and set it as your watch's face. Whether it's a scenic view from your last hike or a picture of your new puppy, with Garmin you can add personality to your watch that's uniquely you.
r class="title">
General
Lens material
domed glass

Bezel material
stainless steel
Case material
fiber-reinforced polymer
QuickFit™ watch band compatible
yes (26 mm)
Strap material
TPU
Physical size
51 x 51 x 15.5 mm
Display size
1.2" (30.4 mm) diameter
Display resolution
218 x 218 pixels
Display type
sunlight-visible, transflective memory-in-pixel (MIP)
Weight
2.9 oz (82 g)
Battery life
Smartwatch mode: Up to 2 weeks
GPS mode: Up to 20 hours
UltraTrac™ mode: Up to 50 hours
Water rating
10 ATM
Colour display
Memory/history
32 MB
Clock features

Time/date
GPS time sync
Automatic daylight saving time
Alarm clock
Timer
Stopwatch
Sunrise/sunset times
Sensors

GPS
GLONASS
Barometric altimeter
Compass
Yes (tilt-compensated 3-axis)
Accelerometer
Thermometer
Daily smart features

Connect IQ™ (downloadable watch faces, data fields, widgets and apps)
Smart notifications
Connectivity
Bluetooth® Smart, ANT+®, Wi-Fi®
Calendar
Weather
Controls smartphone music
Find my phone
Find my watch
VIRB® camera remote
Smartphone compatibility
iPhone®, Android™
Compatible with Garmin Connect™ Mobile
Safety and tracking features

LiveTrack
Tactical features

Dual grid coordinates
Activity tracking features

Step counter
Move bar (displays on device after a period of inactivity; walk for a couple of minutes to reset it)
Auto goal (learns your activity level and assigns a daily step goal)
Sleep monitoring (monitors total sleep and periods of movement or restful sleep)
Calories burned
Floors climbed
Distance travelled
Intensity minutes
TrueUp™
Fitness equipment/gym

Available gym activity profiles
Indoor Rowing
Training, planning and analysis features

GPS speed and distance
Customisable screen(s)
Customisable activity profiles
Auto Pause®
Interval training
Advanced workouts
Downloadable training plans
Auto Lap®
Manual lap
Configurable lap alerts
VO2 max
Training effect (aerobic)
Customisable alerts
Audio prompts
Finish time
Virtual partner
Race an activity
Auto multisport activities
Multi-sport
Course guidance
Touch and/or button lock
Hot keys
Auto scroll
Activity history on watch
Heart rate features

HR zones
Yes (with compatible accessory)
HR alerts
Yes (with compatible accessory)
HR calories
Yes (with compatible accessory)
% HR max
Yes (with compatible accessory)
% HRR
Yes (with compatible accessory)
Recovery time
Yes (with compatible accessory)
Auto max HR
Yes (with compatible accessory)
HRV stress test (measures your heart rate variability while standing still, for 3 minutes, to provide you with an estimated stress level; the scale of this is 1 to 100; low scores indicate lower stress levels)
Yes (with compatible accessory)
Running features

Available run profiles

Running, Indoor Running, Trail Running

GPS-based distance, time and pace
Running dynamics
Vertical oscillation and ratio (the degree of 'bounce' in your running motion and the cost-benefit ratio with stride length)
Yes (with compatible accessory)
Ground contact time and balance (shows how much time, in the running motion, your foot is on the ground rather than in flight and lets you check your running symmetry)
Yes (with compatible accessory)
Stride length (real time)
Yes (with compatible accessory)
Cadence (provides real-time number of steps per minute)
Performance condition (after running 6–20 minutes, compares your real-time condition to your average fitness level)
Lactate threshold (through analysis of your pace and heart rate, estimates the point where your muscles start to rapidly fatigue)
Yes (with compatible accessory)
Run workouts
Race predictor
Foot pod capable
Yes (optional)
Golfing features

Yardage to F/M/B (distance to front, middle and back of green)
Yardage to layups/doglegs
Measures shot distance (calculates exact yardage for shots from anywhere on course)
Digital scorecard
Outdoor recreation features

Available outdoor recreation profiles

Hiking, Climbing, Mountain Biking, Skiing, Snowboarding, XC Skiing, Stand Up Paddleboarding, Rowing, Jumpmaster, Tactical

Point-to-point navigation
Breadcrumb trail in real time
Back to start
TracBack®
UltraTrac mode
Elevation profile
Distance to destination
Barometric trend indicator with storm alert
Trail run auto climb
Vertical speed
Total ascent/descent
Compatible with BaseCamp™
GPS coordinates
Projected waypoint
Sight 'N Go
Cycling features

Alerts (triggers alarm when you reach goals including time, distance, heart rate or calories)
Courses
Available cycling profiles

Biking, Indoor Biking, Triathlon

Bike lap and lap maximum power (with power sensor)
Race an activity
Multiple bike profiles
Compatible with Vector™ (power meter)
Power meter compatible
Speed and cadence sensor support (with sensor)

yes (ANT™)
Swimming features

Available swim profiles

Pool Swimming, Open Water Swimming

Open-water swim metrics (distance, pace, stroke count/rate, stroke distance, swim efficiency (SWOLF), calories)
Pool swim metrics (lengths, distance, pace, stroke count/rate, swim efficiency (SWOLF), calories)
Stroke type detection (freestyle, backstroke, breaststroke, butterfly) (pool swim only)
Drill logging (pool swim only)
Basic rest timer (up from 0)
"Repeat on" rest timer
Heart rate from external HRM (real-time during rests, interval and session stats during rests, and automatic heart rate download post-swim)
Yes (with HRM-Tri™ and HRM-Swim™)
Garmin Connect™

Automatic sync (automatically transfers data to Garmin Connect)
fēnix 3 - gray watch with black band
USB charging/data cable
AC adapter
Product Documentation
Why NOH?
A newly overhauled (NOH) device has been refurbished to like-new condition by Garmin factory engineers. NOH devices go through extensive testing and are guaranteed to maintain the same high-quality standards as all Garmin products. NOH products come packaged in white boxes and contain all accessories, manuals and a 2-Year Manufacturer Warranty.
Why choose Garmin NOH products?
Factory Direct
NOH products come straight from the Garmin factory
Like New
NOH products are guaranteed to look and work like new
Warranty
NOH products come with a 2-Year Manufacturer Warranty
Go Green
NOH products come in environmentally-friendly packaging to reduce waste
Save Money
NOH products are offered at significant cost savings
Satisfaction Guarantee
If you're not happy with your NOH purchase, we'll take it back for a full refund
Recently viewed product
You recently viewed these products