GPS Smartwatch with Advanced Running Metrics
Touchscreen GPS running watch with a high resolution colour display
Advanced running dynamics include ground contact time balance, stride length and vertical ratio
Features stress score, performance condition and lactate threshold
Connected features: automatic uploads to Garmin Connect™, live tracking, audio prompts, smart notifications and social media sharing
Download data fields, watch faces, widgets and applications from Connect IQ™
All the Numbers to Measure a Runner
Whether you're training for your first marathon or looking to crush a personal record, Forerunner 630 provides all the extensive data you need for training and racing. Check your form by pairing your 630 with the HRM-Run™ monitor to measure cadence, vertical oscillation and ground contact time. Additional running dynamics include ground contact time balance, stride length and vertical ratio, giving runners insight into how efficient and how balanced their running form is.
The Proof of Your Potential
Forerunner 630 uses extended physiological metrics to help you get the most out of your workouts and feel confident with what you can accomplish when you toe the line. Once Forerunner 630 learns your lactate threshold through a guided test, you can apply it to your heart rate training when setting up zones. Overall training load, sleep, nutrition and general life stress play a role in how you will perform in a tough workout. To give you a better idea of what days you should aim for a tough workout or use as a recovery day, Forerunner 630 provides you with a stress score based off your heart rate. Performance condition is another feature that gives you an idea of how you will fare in workout. As you run, this feature analyses your pace, heart rate and heart rate variability to make a real-time assessment of your ability to perform.
When planning a strategy for your next race, Forerunner 630 measures your VO2 max and can predict your race times for several distances, providing you with a time target. It also lets you know when to back off your training after a grueling workout or race with its built-in recovery advisor.
More Than Just Pace, Distance and Time
Go past the basics on your watch face with Connect IQ™ at Garmin Connect. Browse through and download free watch faces, widgets, applications and custom data fields. You can also customise your training by downloading advanced workouts and training plans to your watch from Garmin Connect.
It's Simple. Full Stop.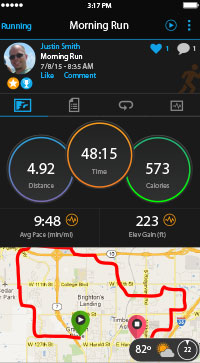 Concise, easy-to-understand charts, graphs, maps and more let you view your activities, track progress toward goals and wirelessly upload and share relevant data directly with the online Garmin Connect network. So, you can compete with friends or family members on weekly step or running challenges — and compare your results in real time, using the LiveTrack feature. You can also use the app's wireless connectivity links to receive current weather conditions, forecasts and smart notifications right on your compatible Garmin device.
Wear Your Personality on Your Sleeve
Download the free Garmin Face It™ watch face app to customise your device with any photo from your smartphone. Just download the app, choose an image from your photo library, adjust the style for time and set it as your watch's face. Whether it's a scenic view from your last hike or a picture of your new puppy, with Garmin you can add personality to your watch that's uniquely you.
General

Lens material

chemically strengthened glass

Strap material

silicone

Physical size

45 x 45 x 11.7 mm

Touchscreen
Display size
1.23" (31.1 mm) diameter
Display resolution
215 x 180 pixels
Display type
sunlight-visible, transflective memory-in-pixel (MIP)
Weight
44 g
Battery life
Up to 4 weeks in watch mode; up to 16 hours in training mode
Water rating
5 ATM
Colour display
Memory/history
200 hours of activity data
Clock features

Time/date
Includes date and alarm.
GPS time sync
Automatic daylight saving time
Alarm clock
Stopwatch
Sensors

GPS
GLONASS
Compass
Accelerometer
Daily smart features

Connect IQ™ (downloadable watch faces, data fields, widgets and apps)
Smart notifications
Connectivity
Calendar
Weather
Controls smartphone music
Find my phone
VIRB® camera remote
Smartphone compatibility
iPhone®, Android™
Compatible with Garmin Connect™ Mobile
Safety and tracking features

LiveTrack
Activity tracking features

Step counter
Move bar (displays on device after a period of inactivity; walk for a couple of minutes to reset it)
Auto goal (learns your activity level and assigns a daily step goal)
Sleep monitoring (monitors total sleep and periods of movement or restful sleep)
Calories burned
Distance travelled
TrueUp™
Training, planning and analysis features

GPS speed and distance
Customisable screen(s)
Customisable activity profiles
Auto Pause®
Interval training
Advanced workouts
Downloadable training plans
Auto Lap®
Manual lap
Configurable lap alerts
VO2 max
Training effect (aerobic)
Customisable alerts
Audio prompts
Finish time
Virtual partner
Race an activity
Course guidance
Strava Live Segments
Touch and/or button lock
Auto scroll
Activity history on watch
Heart rate features

HR zones
Yes (with compatible accessory)
HR alerts
Yes (with compatible accessory)
HR calories
Yes (with compatible accessory)
% HR max
Yes (with compatible accessory)
% HRR
Yes (with compatible accessory)
Recovery time
Yes (with compatible accessory)
Auto max HR
Yes (with compatible accessory)
HRV stress test (measures your heart rate variability while standing still, for 3 minutes, to provide you with an estimated stress level; the scale of this is 1 to 100; low scores indicate lower stress levels)
Yes (with compatible accessory)
Running features

Available run profiles

yes

GPS-based distance, time and pace
Running dynamics
Vertical oscillation and ratio (the degree of 'bounce' in your running motion and the cost-benefit ratio with stride length)
Yes (with compatible accessory)
Ground contact time and balance (shows how much time, in the running motion, your foot is on the ground rather than in flight and lets you check your running symmetry)
Yes (with compatible accessory)
Stride length (real time)
Cadence (provides real-time number of steps per minute)
Performance condition (after running 6–20 minutes, compares your real-time condition to your average fitness level)
Yes (with compatible accessory)
Lactate threshold (through analysis of your pace and heart rate, estimates the point where your muscles start to rapidly fatigue)
Yes (with compatible accessory)
Run workouts
Race predictor
Foot pod capable
Yes (optional)
Outdoor recreation features

Back to start
Distance to destination
yes (for back to start)
Cycling features

Alerts (triggers alarm when you reach goals including time, distance, heart rate or calories)
Available cycling profiles

yes

Race an activity
Advanced Vector support
Compatible with Varia Vision™ (head-mounted display)
Compatible with Varia™ radar (rear-facing radar)
Compatible with Varia™ lights
Speed and cadence sensor support (with sensor)

yes
Swimming features

Basic rest timer (up from 0)
Garmin Connect™

Automatic sync (automatically transfers data to Garmin Connect)
Additional

Additional

Connect IQ™ app support: Yes
Physiological measurements : Yes
Forerunner 630 GPS watch
Charging/data clip
Documentation
Why NOH?
A newly overhauled (NOH) device has been refurbished to like-new condition by Garmin factory engineers. NOH devices go through extensive testing and are guaranteed to maintain the same high-quality standards as all Garmin products. NOH products come packaged in white boxes and contain all accessories, manuals and a 2-Year Manufacturer Warranty.
Why choose Garmin NOH products?
Factory Direct
NOH products come straight from the Garmin factory
Like New
NOH products are guaranteed to look and work like new
Warranty
NOH products come with a 2-Year Manufacturer Warranty
Go Green
NOH products come in environmentally-friendly packaging to reduce waste
Save Money
NOH products are offered at significant cost savings
Satisfaction Guarantee
If you're not happy with your NOH purchase, we'll take it back for a full refund
Recently viewed product
You recently viewed these products